BEAUTEEN Base Up Bleach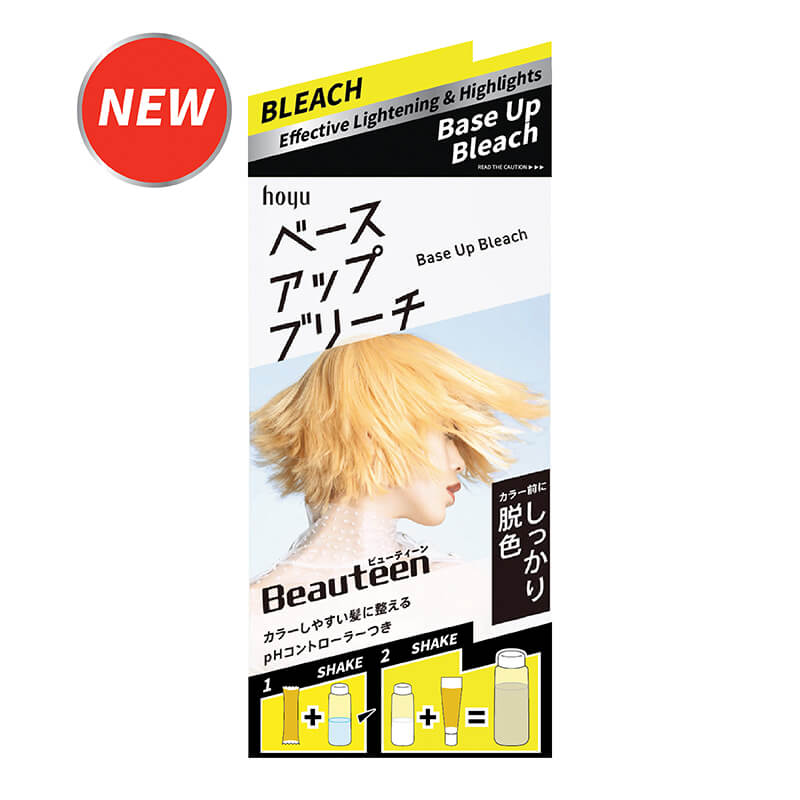 Beauteen Base Up Bleach
Creates a foundation for your next hair color with Beauteen Base Up Bleach. Comes with PH Controller to balance your hair condition and minimize damage to hair. It contains three types of hair protecting oils – Avocado Oil, Coconut Oil and Grapeseed Oil to make your hair smooth and silky.
Where to buy?

Features

PH Controller

Cares for hair immediately after bleaching, as a preparation for your next hair color.

Contains Avocado Oil, Coconut Oil & Grape Seed Oil

Hair protecting ingredients for shiny and smooth hair.
Color Chart
How to Use

STEP 1

Put the developer bottle in the hole, and add the full contents of the powder into the bottle. Then, tighten the white cap securely, and immediately shake the bottle up and down about 30 times strongly. Do not put Comb-Nozzle on the bottle! The mixture may splatter from the bottle when shaking the bottle.

STEP 2

Pierce seal of the tube by pressing the pointed cone on the cap against the seal. Place the developer bottle mixed with the powder in the box, and add the entire amount of colorant.

STEP 3

Tighten the white cap and strongly shake the bottle up and down about 50 times (about 30 seconds). Do not leave the product with the white cap on. Gas may build up in the container causing it to burst and the mixture to overflow.

STEP 4

Immediately remove the white cap and firmly attach Comb-Nozzle. Then leave for 30 seconds. After leaving it for about 30 seconds, start applying, immediately and do not stop halfway through the process.

Application

STEP 1

Apply from the nape of the neck as well as the areas where it is difficult to lighten. Apply the mixture evenly to the entire hair, as if combing your hair while releasing the mixture.

STEP 2

Shampoo twice after rinsing hair thoroughly with warm water. Apply pH Controller.

STEP 3

Leave on for 3-5 minutes, then rinse off. Finish with conditioner and dry the hair well.