Hair Color
PROMASTER TONER ON
A low alkaline gel-type hair color exclusively for pre-colored hair. It is designed to replenish pigment to wet dyed hair in the shampoo booth to quickly and efficiently refresh hair color.
It is also easy to use in both creative design and troubleshooting with toning and double color techniques for damage-free coloring with shiny and vivid results.
Key Technology
Minimal Alkaline Gel
Minimal alkaline gel hair color with a less harsh odor that is less damaging to hair & scalp. Its gel consistancy allows easy & even application from root to tip. It offers glossy vivid color results to customers who are concerned about hair color damage.

Vivid Color and Glossiness
Gives glossy shine and veiling color effect, especially on highlights or high-tone color. Minimal-alkali type product has been improved and softer hair after coloring can be expected from the moment it is applied to the hair.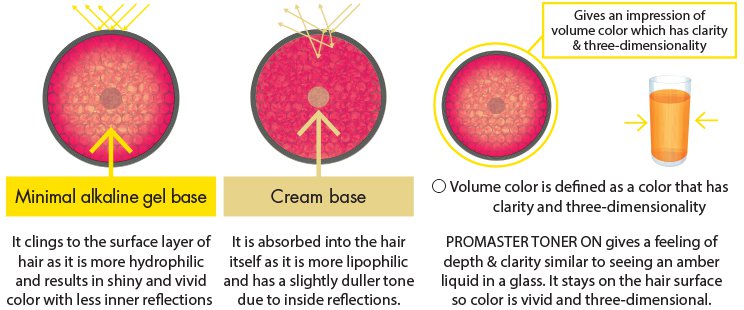 Longer Lasting Formula
Pigment molecules of Promaster Toner On are Bulky Pigments (BP formula), which have a side chain produced by oxidative polymerization. The side chain acts like a hook that fixes it firmly on the hair.

Excellent Condition
The damage to colored hair is minimized under minimal alkaline type.


Product Lineup